Welcome to MerryGOSwing™! We are showcasing a safe, energy-free form of social entertainment, relaxation and recreation. Made in the good old US of A, the MerryGOSwing™ provides hours of endless entertainment for both young and old. Originally designed as an "Adult-sized swing" for "Adult-sized Kids" the original Zen Swing® is a great investment of time, energy, attention and fortune for many. The MerryGOSwing™ came into existence to provide joy and laughter giving children hours of swinging and spinning outdoors alongside Bouncy Castles, Bouncy Slides, or just by itself.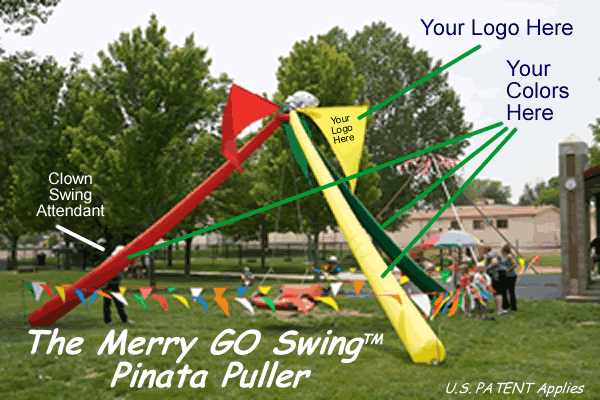 You are welcome to purchase a MerryGOSwing™ to rent to those in your community.
These swings can be customized to announce your presence at festivals
with flags showing your logos and images as a sponsor.
Rent for your next party click here.
Purchase for renting to others click here.
---
High Touch All Rights Reserved ©2011
U.S.Patent Applies